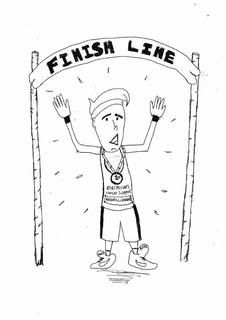 At the start of the year I decided I needed to scrap my junk food diet, don my short shorts and try and do something worthwhile for Macmillan Cancer Support, a charity I have immense respect for.
Their work to provide financial, medical and emotional support to people with Cancer , as well as pushing for constantly better standards of Cancer care is really as important as it gets in our times.
I'm running the London BUPA 10K on May 31st, above is a crap picture I drew on my lunchour at work. It's me and the finish line, basking in saintly glory.
Training is going well, I'm up to about 7K without stopping. Listening to a lot of Fucked Up and Blink 182 to keep me going.
Here is my online fundraising page, please dig deep and help me raise as much money as I can.
My page: http://uk.virginmoneygiving.com/AndrewMoranLondon10K
Thank You!!!!